Friday, 25 February 2022
Deputy Prime Minister Matevosyan discusses with the AUA President the programs aimed at capacity building in the regions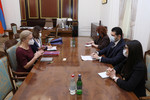 Today, Deputy Prime Minister Hambardzum Matevosyan received the President of the American University of Armenia Karin Markides.
During the meeting, Dr. Markides presented the University's mission and current programs aimed at bringing in line with the Government's priorities for sustainable development of Armenia. The initiatives related to the fields of artificial intelligence, capacity building of Armenian communities, leadership and governance, as well as innovation.
Deputy Prime Minister Matevosyan highlighted the activities of the "Manukian Simon" and "Policy Development and Research" foundations operating at the University, which is aimed at conducting research on topics arising from the needs of the state in order to promote the process of fact-based policy development in Armenia.
During the meeting, the initiative of the American University of Armenia to cooperate with the regional administrations was discussed, aimed at working out solutions to the challenges outlined by the latter, as well as to implement capacity development programs in the regions.