Monday, 7 February 2022
Arayik Harutyunyan convenes consultation to discuss preparation process for the International Biology Olympiad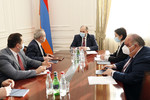 Arayik Harutyunyan, Chief of Staff of the Prime Minister, convened a consultation which was attended by Minister and Deputy Minister of Education, Science, Culture and Sports Vahram Dumanyan and Zhanna Andreasyan, Rector of Yerevan State University Hovhannes Hovhannisyan, Director of Karen Demirchyan Sports and Concert Complex Karen Ghazaryan.
The preparation process for the International Biology Olympiad to be held in Yerevan in July this year and the forthcoming activities were discussed at the consultation.
It was noted that an Olympiad of such a large-scale will be held in Armenia for the first time. Teams from 80 countries will take part in the event.
The opening and closing ceremonies will take place at the Alexander Spendiaryan National Academic Theater of Opera and Ballet, while the Olympiad itself will be held at the Sports and Concert Complex.
The Chief of Staff of the Prime Minister Arayik Harutyunyan highlighted the holding of such a large event in our country, emphasizing the need to carry out the preparatory work at a high level and according to the set schedule.