Thursday, 2 December 2021
Deputy Prime Minister Mher Grigoryan participates in the Second Eurasian Congress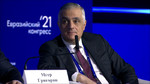 In the sidelines of his working visit to Moscow, Deputy Prime Minister Mher Grigoryan took part in the plenary sitting entitled "Key Investment Projects as Systemic Driving Forces of Economic Growth in the EEU" within the framework of the Second Eurasian Congress.

The sitting was also attended by the Prime Minister of the Russian Federation, Deputy Prime Ministers of a number of CIS member states, and other officials.

During the session, Deputy Prime Minister Mher Grigoryan touched upon the need to stimulate the growth in the volume of settlements in national currencies in trade between the EEU countries, the availability of capital markets and stock exchange and the prospects emerging as a result of that.