Wednesday, 15 December 2021
Deputy PM Mher Grigoryan meets with EU Commissioner Olivér Várhelyi and other high-ranking officials in Brussels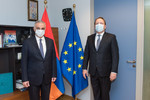 Deputy Prime Minister Mher Grigoryan, who is in Brussels on a working visit, met with EU Commissioner for Neighbourhood and Enlargement Olivér Várhelyi․
The interlocutors discussed the programs developed under the EU Economic and Investment Plan, highlighting the joint efforts to ensure their launch as soon as possible.
The Deputy Prime Minister presented to the EU Commissioner the work done by the Government of the Republic of Armenia in the direction of separate guidelines. The sides highlighted the progress made in the development and implementation of the programs.
Deputy Prime Minister Mher Grigoryan also met with Lawrence Meredith, Director for Neighbourhood East and Institution Building in the Directorate-General for Neighbourhood and Enlargement Negotiations. The interlocutors referred to the ongoing discussions with European financial institutions within the framework of projects under the Economic and Investment Plan, which relate to the development of digital and road infrastructure, support for small and medium enterprises, as well as the development of Syunik Province and increasing access to education.
The main directions of cooperation envisaged by the establishment of a new framework of bilateral multiannual cooperation were also discussed.
From the perspective of the development of the Armenia-EU relations, the implementation process of the Comprehensive and Enhanced Partnership Agreement was particularly highlighted. In this context, the Deputy Prime Minister stressed that key reforms are being implemented in a number of areas within the framework of the CEPA, and the Agreement remains an integral part of the Government's reform agenda.