Tuesday, 7 December 2021
The message of Deputy Prime Minister of Armenia Hambardzum Matevosyan on the 33th anniversary of Spitak earthquake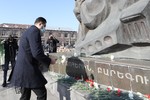 Dear compatriots,
Today we commemorate the memory of the innocent victims of the devastating earthquake of Spitak in 1988, which took tens of thousands of lives, distorted hundreds of thousands of destinies, leaving a disaster zone behind.
Born and raised in Gyumri, I personally felt the heavy burden of the earthquake, witnessed the deprivations and bitterness of the people. This public pain that has become private for everyone, cannot abandon anyone affected by the tragedy or those who have at least seen the disaster zone with their own eyes. Every year on December 7, we reacknowledge our sense of obligation to our compatriots who fell victim to the disaster for creating a prosperous, healthy environment for all, especially their descendants. I would like to emphasize that solving the housing problems of the citizens living in the disaster zones continues to be one of the priorities of the Government, with the aim to create proper living conditions for the families left homeless after the earthquake.
Once again bowing to the memory of our martyred compatriots, I reaffirm my commitment to spare no effort to eliminate the consequences of the earthquake, because I think the appreciation of their memory should first of all be in the form of work, the task for the revival of Spitak, Gyumri and other affected areas.