Tuesday, 9 November 2021
Deputy Prime Minister Mher Grigoryan receives newly appointed UNDP Resident Representative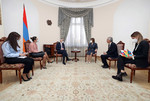 Deputy Prime Minister Mher Grigoryan received the newly appointed UNDP Resident Representative to Armenia Natia Natsvlishvili.

Greeting the guest, the Deputy Prime Minister congratulated her on the appointment and wished success in the implementation of the important mission.
Natia Natsvlishvili thanked for the reception and mentioned that she is ready to make maximum efforts in the direction of deepening of cooperation in the framework of the jointly implemented programs.
The interlocutors discussed the new possible directions of cooperation, referred to the current issues related to the programs. Mher Grigoryan and Natia Natsvlishvili exchanged views on the implementation of goals of stable development, improvement of the electoral system in Armenia, and reform of public administration.