Monday, 8 November 2021
Deputy Prime Minister Mher Grigoryan receives UN Resident Coordinator who is completing his mission in Armenia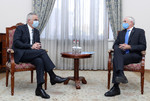 Deputy Prime Minister Mher Grigoryan received UN Resident Coordinator in Armenia Shombi Sharp, who is finishing his mission.

Taking the opportunity of the meeting, Deputy Prime Minister Mher Grigoryan thanked Shombi Sharp for the work done during his tenure. The Deputy Prime Minister emphasized the role of Shombi Sharp, in particular, in the direction of works of the Platform for Coordination of Cooperation with Armenia's Development Partners.

Shombi Sharp thanked for the kind words, mentioning that he leaves Armenia only with warm memories. He highly appreciated the cooperation with the partners in the Government, in particular with the office of the Deputy Prime Minister, emphasizing that the effectiveness of his work was directly dependent also on the constructive cooperation.
Mher Grigoryan wished Mr. Sharp new success in his future activities, mentioning that he will always remain Armenia's partner.