Thursday, 30 September 2021
Deputy PM Mher Grigoryan receives Managing Director for Eastern Europe and the Caucasus (EEC) at the EBRD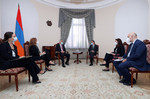 Deputy Prime Minister Mher Grigoryan received Matteo Patrone, the Managing Director for Eastern Europe and the Caucasus (EEC) at the European Bank for Reconstruction and Development (EBRD).

At the beginning of the meeting, the Deputy Prime Minister highlighted Armenia's cooperation with the EBRD in a number of key areas. Particular emphasis was placed on the importance of cooperation with the EBRD in the framework of EU assistance to Armenia under its economic and investment plan, particularly, the development of financial instruments for access to funding for SMEs, the construction of the southern section of the North-South highway, as well as digitalization and infrastructure creation.
During the meeting the interlocutors exchanged views on the need to activate the public-private partnership and capital market development toolkit.