Tuesday, 12 October 2021
Deputy Prime Minister Mher Grigoryan holds video call with the IMF Regional Director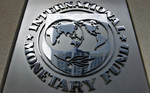 Deputy Prime Minister Mher Grigoryan held a video call with Jihad Azour, IMF regional director for Middle East and Central Asia Department in the sidelines of annual meetings of the International Monetary Fund (IMF) and the World Bank. The chairman of the Central Bank Martin Galstyan and the Minister of Finance Tigran Khachatryan also took part in the video call from the Armenian side.
Speaking about the challenges facing Armenia in 2020, Deputy Prime Minister Mher Grigoryan stressed that the country has been able to maintain macroeconomic and financial stability, including due to cooperation with the IMF. The Deputy Prime Minister presented the main guidelines of the Government's Action Plan to Jihad Azour, emphasizing that the measures implemented under the "Economic and Financial Policies" memorandum approved with the IMF are always in the center of the Government's attention.
During the meeting, Jihad Azour noted that the IMF is ready to continue assisting the Armenian Government in implementing the ambitious reform agenda.
The interlocutors also referred to the reforms planned in the field of education, the need to develop the capital market in terms of attracting investments, and the need to intensify the vaccination process.