Friday, 1 October 2021
Deputy PM Mher Grigoryan receives Foreign Minister of Czech Republic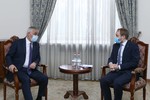 Deputy Prime Minister Mher Grigoryan received Foreign Minister of the Czech Republic Jakub Kulhánek.

At the beginning of the meeting, the Deputy Prime Minister, emphasizing the role of the international community for the repatriation of Armenian prisoners of war, stressed that this is one of the most important factors for the establishment of long-term peace and stability in the region.

During the meeting, the Deputy Prime Minister and the Czech Foreign Minister exchanged views on the main goals set by the Action Plan approved by the Government, on the reforms outlined in the Armenia-EU Comprehensive and Enhanced Partnership Agreement.

The Deputy Prime Minister of Armenia and the Czech Foreign Minister discussed the prospects for the development of trade and economic relations, both sides stressed the need to realize the great potential existing in that sphere. In this context, the parties highlighted the visit of the representatives of the Czech business community to Armenia together with the Minister, the organization of the business forum, as well as the forthcoming sitting of the Armenian-Czech Intergovernmental Commission.
Regional developments were also touched upon.