Friday, 8 October 2021
Deputy Prime Minister Mher Grigoryan receives newly appointed Director of USAID Armenia Mission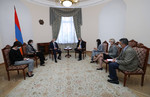 Deputy Prime Minister Mher Grigoryan received the newly appointed Director of the U.S. Agency for International Development (USAID) Armenia Mission John Allelo.

Greeting the guest, the Prime Deputy PM congratulated him on the appointment and wished productive work, noting that cooperation with the USAID is important for Armenia.
John Allelo thanked for the reception, noting that he reaffirmed the readiness of the USAID to cooperate with the Government over strengthening of democracy and economic development.

The interlocutors discussed the main directions of cooperation of the USAID with Armenia within the framework of the country's development strategy 2020-2025. In this context, the Deputy Prime Minister stressed the importance of implementing reforms in public administration in terms of the development of democracy, including the advancement of the digitalization process.

An agreement was reached to maintain the frequency of meetings in order to discuss cooperation issues and to develop a new cooperation agreement within the framework of the country's development strategy.