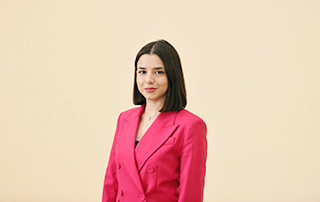 Viktorya Aydinyan
Adviser to Deputy Prime Minister
Curriculum Vitae
Date and Place of Birth
January 29, 1995, Yerevan

Education
2012-2016, Yerevan State University, Faculty of International Relations, Department of Political Science, Bachelor's Degree in Political Science (graduated summa cum laude)
2016-2018, American University of Armenia, Political Science and International Relations Program, Master of Political Science and International Relations, Track: Policy and Development (graduated summa cum laude)

Work Experience
2016-2017 – Training coordinator within youth and community development, anti-corruption education projects, funded by the OSCE Office in Yerevan, US Embassy in Yerevan and implemented by "The Future is Yours" NGO
2017 - Coordination and communication expert within the project "Youth Empowerment: Leveraging a Dialogue on Academic Integrity in Armenia", funded by the EU/CoE Office in Yerevan and implemented by "Apella Institute of Policy and Dialogue" NGO
2017 - American University of Armenia, researcher
2017-2018 - "Center for Strategic Initiatives" Foundation, research analyst
2018-2020 - Assistant to Deputy Prime Minister Tigran Avinyan
2021 – UNDP, National Expert for Public Administration Strategy
2021 – "Transparency International Anticorruption Center" NGO, Coordinator of Public Administration Projects
2021-2023 – Advisor to the RA Minister of Labor and Social Affairs
2022-2023 – "Legislation Development Center" Foundation, Institutional Modernization Task Lead
Since March 28, 23 - Adviser to Deputy Prime Minister Mher Grigoryan
Other Information
Participated in over dozen local and international trainings and conferences on policy development and public administration. Is a recipient of Public policy and leadership certificate program (2013), organized by the US Department of State and implemented by the University of Massachusetts (Amherst, USA) and University of Georgetown (Washington DC, USA). Is the winner of the South Caucasus Debate Championship (UNDP, Georgia, 2012).
Was awarded with the Prime Minister's medal for the engagement in the COVID-19 management efforts and Prime Minister's Certificate of Appreciation for exceptional work and dedication.
Has full professional proficiency in English and Russian.
Political Affiliation
Non-partisan

Marital Status
Single