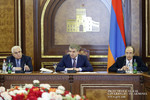 PM Discusses Construction Sector Development Prospects with Developers' Representatives
Chaired by Prime Minister Karen Karapetyan, a consultation was held today in the Office of Government to discuss ways of simplifying the construction permit granting procedures and sector development prospects. The meeting was attended by developers' representatives and government officials. The Prime Minister noted that mindful of reinvigorating Armenia's construction sector, the Government is prepared to hold regular meetings in the given format to discuss proposals and... more »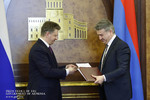 Trade turnover between Armenia and Russia 26.1% up in 2017: Armenian-Russian Intergovernmental Commission on Economic Cooperation Holds 18th Session
The 18th session of the Armenian-Russian Intergovernmental Commission on Economic Cooperation was held today in the the Office of Government, presided at Commission Co-Chairs, RA Prime Minister Karen Karapetyan and RF Transport Minister Maxim Sokolov. Prime Minister Karapetyan underscored with satisfaction that the sides had implemented in practice what was planned for 2017. "Growth has been recorded in all indicators. In a private meeting with Maxim Sokolov we outlined the... more »
Sunday, 18 February 2018
Prime Minister Karen Karapetyan extends condolences to IRI First Vice President Es'haq Jahangiri
Prime Minister Karen Karapetyan sent a condolence message to First Vice President of the Islamic Republic of Iran Es'haq Jahangiri in connection with the crash of the plane bound for Yasuj from Tehran, which has caused numerous casualties. "On behalf of the Government of the Republic of Armenia and myself, I extend most profound condolences to you and the friendly people of Iran on the crash of the Tehran-Yasuj flight. At this difficult time, we offer our sympathy to the... more »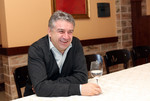 Prime Minister Karen Karapetyan Meets with RPA-Nominated Presidential Candidate Armen Sargsyan
Late on January 17, Prime Minister Karen Karapetyan met with RPA-nominated presidential candidate Armen Sargsyan. During the meeting, views were exchanged on the prospects of Armenia's economic development, expansion of foreign economic relations and attraction of foreign investments.
Thursday, 15 February 2018
Prime Minister Karen Karapetyan to Pay Working Visit to Moscow
Prime Minister Karen Karapetyan will pay a working visit to Moscow on February 16-17. The Premier is due to meet with representatives of Armenian and Russian business circles to discuss ongoing and prospective programs. The Prime Minister will also attend an event dedicated to the 25th anniversary of Gazprom's establishment.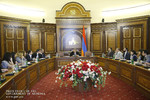 "You have a fantastic opportunity to take a share in our country's governance process"- PM Meets with YES Armenia Program Participants
Prime Minister Karen Karapetyan received YES Armenia Program's young experts who are involved in different projects of ministries and other State agencies. Welcoming the guests to the Office of Government, Karen Karapetyan pointed out that working in the system of public administration is quite an exciting experience. "There are serious challenges facing public administrators and, in general, management systems all over the world. I expect you to refresh the public... more »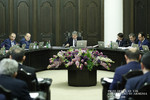 Government set to take drastic steps to improve Armenia's index in international ratings
A Cabinet meeting was held today, chaired by Prime Minister Karen Karapetyan. Prior to the discussion of the agenda issues, the Prime Minister gave a number of assignments. The Prime Minister instructed the Labor and Social Affairs and Healthcare Ministers to jointly develop and submit to the Government Staff a proposal for qualitative changes in the field of medical and social expertise, with a clear reference to expertise procedures and the monitoring system. The Premier highlighted the... more »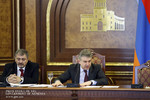 PM Reviews Draft Program for Armenia's Business Environment Improvement in 2018
Today, Prime Minister Karen Karapetyan chaired a discussion on the 2018 draft business environment improvement program of Armenia. The Head of Government was briefed on the results of some 43 activities aimed at facilitating the process of company establishment, issuance of construction permits, connectivity to the electricity grid, property registration, obtaining loans, protecting small shareholders, tax collection, foreign trade, contract enforcement and bankruptcy. The Premier was... more »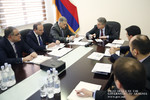 PM Briefed on Ministry of Justice 2017 Annual Performance and 2018 Priorities
Prime Minister Karen Karapetyan visited the Ministry of Justice to get acquainted with the activities and priorities completed in 2017, as well as the tasks set for 2018. The Premier was introduced to the laws stemming from the new Constitution as drafted by the Ministry of Justice and sent to the National Assembly, as well as the package of constitutional laws, the steps taken to ease the courts' workload, the actions carried out in the fight against corruption, the reform of the... more »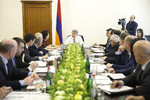 "We have a good chance to get our compatriots involved in our economic programs" – PM gets acquainted with Ministry of Diaspora activities
Prime Minister Karen Karapetyan visited the Ministry of Diaspora to get acquainted with the activities and priorities completed in 2017, as well as the tasks set for 2018. Minister of Diaspora Hranush Hakobyan reported that the Ministry faced three strategic challenges in 2017: promoting the preservation of the Armenian identity, cooperating with Diaspora organizations and spiritual organizations, identifying and mobilizing the all-Armenian potential for the sake of Armenia's and... more »