Wednesday, 30 May 2018
Deputy Prime Minister Mher Grigoryan receives World Bank representatives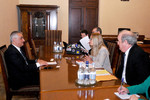 Deputy Prime Minister Mher Grigoryan received a delegation led by World Bank Country Manager for Armenia Sylvie Bossoutrot.
Pleased with the ongoing cooperation between Armenia and the World Bank, the parties touched upon the programs implemented in different spheres. Highly appreciative of the WB's consulting and research services, the Deputy Prime Minister said they promote the development of Armenia's socio-economic systems.
The interlocutors exchanged views on the opportunities for SME activities in Armenia and the prospects for gradual improvement. In this context, Mher Grigoryan assured that SMEs are kept in focus by the government of Armenia, and there is great potential in this area that the government can tap in cooperation with international partners.
The Deputy Prime Minister and the World Bank representatives expressed readiness to continue with the ongoing close and productive cooperation with a view to providing favorable conditions for the development of Armenia's economy.