Saturday, 30 December 2017
New Year's Message by RA Prime Minister Karen Karapetyan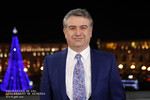 Dear Compatriots,
I have the honor and the opportunity to address you with New Year and Christmas congratulations. May your families be blessed with much happiness, homely warmth, love and solidarity in the New Year!
As usual, we summarize the outgoing year in the run-up to the New Year. The annual economic performance will be better than we expected in 2016, and positively different from the indicators of other countries in the region. To cope with all the problems facing the country, we must work hard and ensure sustainable growth every year.
No one will develop and build the country for us.
Armenia is to be a logical and prosperous country, optimistic and confident about the future. We need an atmosphere of tolerance in the country; mutual respect and consolidation around the goal of developing the country.
Every one of us can take a share in that nationwide drive for consolidation. Anyone, who protects the country and works hard, studies, wakes up early and is thoughtful of his surroundings and the country, as a whole, should feel wanted by his fellow countrymen.
We can develop our country together and, as a result, have a powerful, equitable, well-developed and prosperous Armenia strong with ever-growing and happy population.
Dear Compatriots,
On this festive days, I suggest that you fill up your homes with affection and care, embrace your parents, grandparents, children and grandchildren, exchange kind remarks, rejoice, forgive ... Join your family members, relatives and friends in a bid to get rid of your everyday concerns and stock up on a positive supply of energy for the coming year.
Be assured that we are going to have an awesome and wonderful country.
Happy New Year and Merry Christmas!