Wednesday, 23 June 2010
The Prime Minister congratulates and rewards Rafael Shahbazyan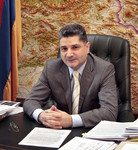 Prime Minister Tigran Sargsyan congratulated well-known Armenian statesman and political figure Rafael Shahbazyan on his 80th birth anniversary.
During a phone conversation, the head of government highlighted Rafael Shahbazyan's valuable contribution to Armenia's industrial revival by noting that his life story should be an example for many Armenians.
By Prime Minister's decision, Rafael Shahbazyan was awarded RA Prime Minister's commemorative medal for years-long proactive state and political activities and significant contribution to the cause of Armenia's industrial development
In 1990-1993, Rafael Shahbazyan was RA Minister of Food and Grain, as well as acting Minister of Agriculture.