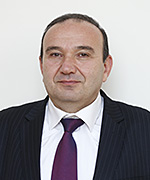 RA Minister of Education and Science
In office since
27 September 2016
Ministry of Education and Science
The Republic of Armenia Ministry of Education and Science is a republican body of executive authority, which elaborates and implements the policies of the Republic of Armenia Government in the education and science sectors.
Deputy Ministers:
Manuk Mkrtchyan
Davit Sahakyan
Vahram Mkrtchyan
Address:
0010, Vazgen Sargsyan 3/8, Yerevan
Tel.:
52-66-02, 527343
Fax:
(3741)527343
URL:
http://www.edu.am
E-mail:

Standalone Units and State Agencies
«The Republic of Armenia Ultimate Qualification Commission» Agency
Head: Lilit Arzumanyan
The Republic of Armenia Ultimate Qualification Commission Agency provides services in the field of academic qualifications awarding academic degrees and professional advice for organizing their work, scientists qualification standards to protect the system.
Licensing Agency
Head: Movses Movsisyan
The Licensing Agency's functions are as follows:
1) Granting, rejecting, renewing, rescheduling, suspending or terminating licenses
2) Monitoring over licensed entities' compliance with the terms and conditions stipulated in the license contract
3) Submittal of proposals and recommendations on amendments and updates to mandatory licensing requirements and conditions
4) Processing and circulation of licensing instruments in the field of education, including the receipt and registration of licensing bids and related documents
5) Implementation of paperwork for the Commission on Licensing of Educational Institutions, implementation of activities necessary for the design, review and submission to the Licensing Committee for consideration.
6) Collection, analysis and assessment of information on licensed entities in accordance with the legislation of the Republic of Armenia.

State Inspectorate of Education
Head: Aram Karapetyan
The State Inspectorate of Education of the Republic of Armenia carries out oversight functions and applies sanctions in the field of education policy, Education Inspection of the law and the implementation of educational policy, programs, and educational standards of educational supervision, monitoring of implementation, inspection and research through educational policy implementation and evaluation of the effectiveness of educational services, violations, elimination of defects, etc. for methodological assistance.
State Language Inspectorate
Head: Sergo Ericyan
The State Language Inspectorate carries out supervisory responsibilities for functions and implements language policy in the Republic of Armenia. It is also responsible for the following: enforcement of the Law On Language and public policy programs to ensure compliance with the requirements of the literary language, the official language in all spheres of public life etc. the agency ensures the exercise of linguistic rights by national minorities.
State Scientific Committee
Chairman: Samvel Harutyunyan
The State Scientific Committee of the Republic of Armenia implements the Government's policy in the field of science. The Committee seeks to develop scientific and technical capacity, its rational and effective distribution and maintenance, scientific and technical personnel training, public intellectual potential reproduction and so on.