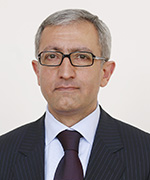 RA Minister of Energy and Natural Resources
In office since
20 September 2016
Ministry of Energy and Natural Resources
The Republic of Armenia RA Ministry of Energy and Natural Resources is a republican body of executive authority, which elaborates and implements the policies of the Republic of Armenia Government in the energy sector.
Deputy Ministers:
Areg Galstyan
Iosif Isayan
Hayk Harutyunyan
Vardan Gevorgyan
Address:
Government Building 3, Republic Square
Tel.:
011-52-19-64
E-mail:

Standalone Units and State Agencies
Agency of Mineral Resources
Head: Haykaz Nazaryan
Mineral Resources Agency implements mineral exploration and exploitation activities during various stages of examination materials and assessing their geophysical-economic detailed exploration of deposits of mineral resources. Mining revaluation results of calculation of the chemical examination.
State Energy Inspectorate
Acting Head: Yuri Ayvazyan
The State Energy Inspectorate provides for the enforcement of human life, property and environmental protection-related technical regulations and other acts. It is also responsible for safe operations, reliability and security of systems and facilities within the energy sector.
State Mining Inspectorate
Acting Head: Samvel Mkrtchyan.
The State Mining Inspectorate of legislation providing businesses in the mining industry within its jurisdiction to monitor compliance with the requirements of the legislation, mineral right package of documents, and its full compliance with legal requirements etc.
Subsoil Concession Agency
Head: Hovhannes Ezekyan
The Agency's goals and objectives are to ensure the provision of mining law, reasonable and comprehensive utilization of natural resources, the use and protection of natural resources and the promotion of public programs.
It discusses geological survey programs, working programs related to the exploration and exploitation of mineral resources, reviews changes if any, as well as the mineral extraction projects, and changes in mining projects and programs in accordance with the prescribed examination and presentation of environmental impact preliminary assessment, recording mining rights over centralized accounting and information.