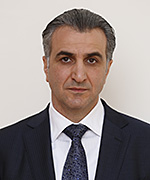 RA Acting Minister of Agriculture
In office since
23 April 2018
Ministry of Agriculture
The Republic of Armenia Ministry of Agriculture is a republican body of executive authority, which develops and implements RA government's policies in the field of agriculture an forestry management.
Deputy Ministers:
Robert Makaryan
Armen Harutyunyan
Ashot Harutyunyan
Address:
Government Building 3, Republic Square, Yerevan 0010
Tel.:
011-52-46-41
E-mail:

Standalone Units and State Agencies
«Licensing Cente» Agency
Head: Arman Hambardzumyan
Republic of Armenia Ministry of Agriculture Staff-affiliated "Licensing Center" licensing agency's primary function is to organize the licensing process in the agricultural sector, including:
• In the field of veterinary medicine: licensing the manufacture of biological preparations.
• Licensing the manufacture and (or) the sales of chemical and biological agents used in the field of plant protection.

State Food Security Service
Head: Ishkhan Karapetyan
The Food Safety Service by the Ministry of Agriculture implements assessment of food products' conformity with the applicable standards, regulates the administration of veterinary and sanitary services, as well as ensures control and imposes sanctions acting on behalf of the Republic of Armenia.
State Inspectorate of Agricultural Mashinery
Head: Vardan Ghushchyan
The Agricultural Machinery Inspectorate implements control of functions for use with tractors, agricultural machinery and tools in the field of operation.