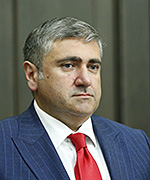 RA Minister of Agriculture
In office since
12 May 2018
Ministry of Agriculture
The Republic of Armenia Ministry of Agriculture is a republican body of executive authority, which develops and implements RA government's policies in the field of agriculture an forestry management.
Deputy Ministers:
Robert Makaryan
Garnik Petrosyan
Address:
Government Building 3, Republic Square, Yerevan 0010
Tel.:
011-52-46-41
E-mail:

Agencies under ministries
«Licensing Cente» Agency
Head: Arman Hambardzumyan
Republic of Armenia Ministry of Agriculture Staff-affiliated "Licensing Center" licensing agency's primary function is to organize the licensing process in the agricultural sector, including:
• In the field of veterinary medicine: licensing the manufacture of biological preparations.
• Licensing the manufacture and (or) the sales of chemical and biological agents used in the field of plant protection.

State Inspectorate of Agricultural Mashinery
Head: Vardan Ghushchyan
The Agricultural Machinery Inspectorate implements control of functions for use with tractors, agricultural machinery and tools in the field of operation.