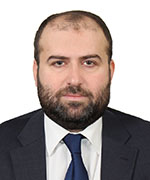 RA Minister of Nature Protection
Ministry of Nature Protection
The Republic of Armenia Ministry of Nature Protection is a republican body of executive authority, which elaborates and implements the policies of the Republic of Armenia Government in the areas of environmental protection and sustainable use of natural resources.
First Deputy Minister:
Irina Ghaplanyan
Deputy Minister:

Address:
Government Building 3, Republic Square, Yerevan 0010
Tel.:
52-10-99
URL:
http://www.mnp.am
E-mail:

Agencies under ministries
Forestry Committee
Chairman: /
The Forest Committee is entrusted with the sustainable management, conservation, protection, restoration, reforestation and effective use of forests, raising State forests' productivity, and conservation of biodiversity.
The functions of the Committee are as follows: registration of State-managed forests and forest lands, keeping of the State forest cadastre, forest management, forest restoration and reforestation, as well as implementation of other powers prescribed by the laws of the Republic of Armenia.