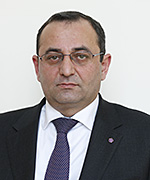 RA Minister of Nature Protection
In office since
27 September 2016
Ministry of Nature Protection
The Republic of Armenia Ministry of Nature Protection is a republican body of executive authority, which elaborates and implements the policies of the Republic of Armenia Government in the areas of environmental protection and sustainable use of natural resources.
First Deputy Minister:
Erik Grigoryan
Deputy Minister:
Khachik Hakobyan
Address:
Government Building 3, Republic Square, Yerevan 0010
Tel.:
52-10-99
URL:
http://www.mnp.am
E-mail:

Standalone Units and State Agencies
Bio-Resource Management Agency
Head: Ashot Hovhannisyan
The Bio-Resource Management Agency provides services in the field of biodiversity conservation and resource management.
National Environmental Inspectorate
Head: Hakob Galstyan
The State Environmental Inspectorate carries out supervisory responsibilities for functions and application of environmental protection and natural resource use in reproduction.
Waste Matter and Air Pollution Management Agency
Acting Head: Telman Aramyan
In accordance with the legislation of the Republic of Armenia, the Atmospheric Emission and Waste Management Agency establishes waste and emission quotas for legal entities and individual entrepreneurs.
It runs the registry of waste inventory, including formation, processing and disposal sites.
Water Resource Management Agency
Head: Vahan Davtyan
The Water Resource Management Agency provides service water / surface and ground / water management, water resources management and protection of the national program, providing qualitative and quantitative monitoring demand for water resources development, water resources inventory of the state, etc.