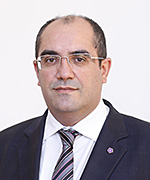 RA Minister of Emergency Situations
In office since
12 May 2018
Ministry of Emergency Situations
The Ministry of Emergency Situations of the Republic of Armenia is a republican body of executive authority, which develops and implements the Government's policy in sectors within its competence in accordance with the laws, this Statute and other legal acts of the Republic of Armenia.
Deputy Ministers:
Davit Karapetyan
Ara Nazaryan
Aram Tanqaryan
Arkadi Balyan
Address:
Yerevan, Davitashen 4-th b., A. Mikoyan 109/8
Tel.:
36-20-15
Fax:
36-20-15
URL:
http://www.mes.am
E-mail:

Standalone Units and State Agencies
Rescue Service
Acting Head: Hovhannes Emishyan
The Rescue Service develops programs for the prevention of emergency situations, minimization and elimination of their consequences, protection of the population in emergency situations and implementation of civil defense activities, the creation of civil defense reserves, fire protection, fire-rescue services and other functions.
State Fire and Technical Safety Inspectorate
Head: Ashot Mkrtchyan
The State Fire and Technical Safety Inspectorate exercises control over compliance with the requirements of normative documents on fire and safety by central and local government agencies and organizations, as well as public officials and citizens, conducts statutory inspections and fire protection surveys in institutions, residential buildings and private houses, implements investigation of fires and technical security-related accidents, applies administrative sanctions and other functions.
State Reserves Agency
Head: Sergey Shahinyan
In cooperation with the coordinating agencies, the State Reserves Agency carries out work related to the roster of State-reserved material values subject to storage and conservation, develops norms for accumulation and replacement of such material values, responsible conservation organizations and agency organizations and state reserve material accumulation, omission, refund, update, replace, established control over the locations of projects and tasks and other functions.