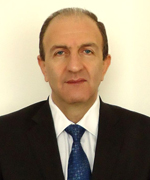 RA Acting Minister of Urban Development
In office since
23 April 2014
Ministry of Urban Development
he Republic of Armenia Ministry of Urban Development is a republican body of executive authority, which elaborates and implements the policies of the Republic of Armenia Government in the urban development sector.
Deputy Ministers:
Armen Ghularyan
Aram Badalyan
Hakob Beglaryan
Address:
Government Building 3, Republic Square, Yerevan 0010
Tel.:
011-62-17-01
E-mail:

Standalone Units and State Agencies
«Licensing Center» Agency
Head: Baghdasar Sngryan
The Agency provides counseling on issues related to urban development in the field of licensing, studies licensing documents, organizes work associated with the granting and changing of licenses, as well as prepares legal acts concerning the suspension or termination of activities. It builds computer databases on licensed individuals and legal entities, creates and maintains the Register, the list of necessary regulations etc.
«Urban Program Implementation Office» public entity
Acting Head: Martin Qyurqchyan
Urban Development Project Implementation Unit SA develops running schedules and project estimates for program activities, holds competitions, analyzes and evaluates proposals, provides control over work quality, deadlines and performance, orders necessary design activities and expert studies, coordinates payments related to program management, prepares technical tasks, holds competitions, assesses and analyzes proposals, develops and signs draft contracts etc.
State Urban Development Inspectorate
Head: Aram Melqonyan
The State Urban Development Inspectorate provides construction supervision services in the field of urban planning. It oversees and applies sanctions in case of breaches to those legal acts regulating urban development activities, urban planning program documents adopted by public administration agencies and local self-government bodies etc.