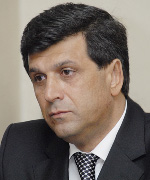 RA Minister of Emergency Situations
In office since
15 March 2010
Ministry of Emergency Situations
RA Ministry of Emergency Situations is a republican body of executive authority, which in line with such competences as are vested in it by laws and other legal acts, develops, implements and coordinates RA government's policy in the area of civil defense and protection of the population in emergency situations.
Deputy Ministers:
Haykaram Mkhitaryan

Address:
Yerevan, Davitashen 4-th b., A. Mikoyan 109/8
Tel.:
36-20-15
Fax:
36-34-50
URL:
http://www.mes.am
E-mail:

Separate Divisions and State Agencies
Accreditation and Licensing Agency
Head: Sarkis Karakhanyan
The Accreditation and Licensing Agency provides for the registry maintenance, registration and licensing activities of hazardous industrial facilities, explosive materials and explosive devices.
Armenian Rescue Service
Head: Sergey Azaryan
The Rescue Service of Armenia is a public authority within the system of the Ministry of Emergency Situations.
The Rescue Service of Armenia is responsible for civil defense and the protection of citizens in emergency situations, as well as runs the system of emergency prevention, reduction and elimination of their consequences.

National Reserves Agency
Head: Sergey Shahinyan
The State Reserve Agency SNCO coordinates and manages work on formation of Republic of Armenia's State reserves.
National Seismic Protection Service Agency
Head: Hrachya Petrosyan
The National Seismic Protection Service agency coordinates seismic risk reduction activities in the Republic of Armenia through management of possible earthquake prediction systems.
State Fire Inspectorate
Head: Avetiq Mkrtchyan
The Fire Inspection implements fire control propaganda and provides for compliance with fire safety requirements of the normative documents, the purpose of life, health, property, financial and cultural values as well as preserving the fire.