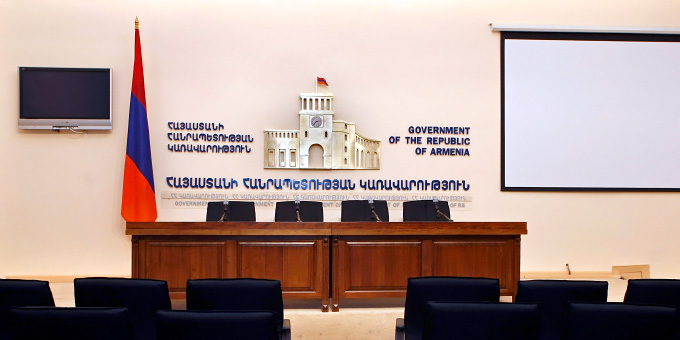 Purpose
Equipped with modern technical means, the Press Centre seeks to offer all the conditions necessary for holding a broad range of events at the Office of Government, including:
Press conferences
Briefings
Video Conferences
Introductions of government programs and published materials
Presentations of various reports
Seminars
Round-tables
Meeting-discussions
Strong with new possibilities, the Centre offers additional support to the public relations departments of RA government agencies in terms of helping them better coordinate and enhance the efficiency of their work by providing them with the necessary information regarding the policies and programs of the government.
Simultaneously, in the Media Room, the Centre organizes the presentation of the materials released by the above departments for journalists and the public-at-large. The centre provides for the audio/video recording and archive filing of press conferences, as well as their web-casting on the official website.
Technical possibilities
The modernized Press Centre is furnished with state-of-the-art communication, TV and radio technologies which permit a full-fledged accomplishment of the functions vested therein.
System of video information reflection a projection screen, a plasma (LCD) TV/panel, TV monitors
Multi-channel system for sound amplification and simultaneous translations wireless speakers, portable receivers, a system of signal distribution
Special lighting system intended for the provision of all conditions necessary to the Press Centre for the preparation of video materials for TV broadcasters
Media Room intended to provide mass media with appropriate working tools and conditions in the Office of Government.
There are installed: telephone/fax, a photocopier, a printer, Internet-connected laptops, an archive of useful materials for news reporters (previous government programs and all the information-related literature published during the past years, the official bulletins which comprise government decisions and Prime Minister's decrees) and many other materials.