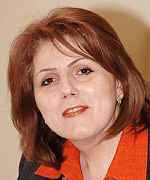 Hasmik Poghosyan
RA Minister of Culture
In office since
1 June 2007
Curriculum Vitae
Date and Place of Birth
May 22, 1960, Yerevan
Education
1977-1982, Yerevan State University, Department of Biology, qualification of biologist-teacher
1982-1985, Yerevan State University, post-graduate course
Work Experience
1983-1993, Biology teacher, school No. 182 of Yerevan
1986-2006, Adviser of the Armenian society of cultural ties and cooperation with foreign countries, senior adviser, head of department, secretary-in-charge, first deputy chairman of the board, board chairman
2006-2008, Minister of Culture and Youth Affairs.
2008-2012, Minister of Culture
June 16, 2012, re-appointed to the post of Minister of Culture
A presidential decree was issued on May 8, 2013 to re-appoint him to Minister of Culture.
Additional Information
Awards and decorations: Republic of Armenia Prime Minister's commemorative medal, CIS diploma, Moses Khorenatsi medal, RF Ministry of Interior Medal for Cooperation, French Republic Knight of Merit Order, Fridtjof Nansen Gold Medal, Republic of Armenia Police medal for strengthened cooperation, Art and Literature Knight French Medal, International Academy of Television and Radio diploma.
While at AOKS, she organized cultural programs, international scientific conferences, founded "Dialog of Cultures" information center. She is author of many scientific, journalistic, creative articles and a number of drafts of books and periodicals, including the Russian language "Palette" magazine, English language «Armenian Palette» series, different cultural reference publications. She authored "Global colors" and "Literary ark: European writers about Armenia" books.
Party Membership
Non-party
Marital Status
Married, with two sons and two grandchildren