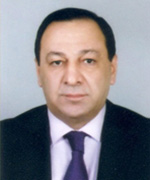 Chairman of the State Committee of Real Estate Cadastre
In office since
3 June 2014
State Committee of the Real Estate Cadastre
The State Committee of the Real Estate Cadastre adjunct to the RoA Government is a republican body of executive authority, which elaborates and implements the policies of the Republic of Armenia Government in the area of maintaining the unified national cadastre of immovable property.
Deputies:
Ashot Musayan
Narek Grigoryan
Arman Petrosyan
Address:
7 Arshakunyatz, Yerevan
Tel.:
060-47-41-10
E-mail:

Standalone Units and State Agencies
Գեոդեզիայի և հողային պետական տեսչություն
Head: Ara Torosyan
The State Inspectorate for Geodesy and Land Survey implements oversight functions in the field of land use and conservation, geodesy and cartography. It applies sanctions in case of irregularities detected in the aforementioned areas.