Monday, 23 July 2012
Premier's Condolence Message On Demise Of Galya Novents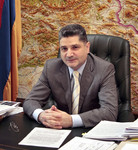 I was deeply grieved to learn of the passing of great Armenian actress, People's Artist of the Republic of Armenia Galya Novents.

Galya Novents left a trace of her own in the history of the Armenian cinema and theatrical art. The characters embodied by Novents will stay with us forever as original examples of the art of acting.
At this time of sorrow, I am sympathizing with the family, relatives and friends of the renowned actress.