Wednesday, 1 December 2010
Prime Minister Tigran Sargsyan's condolences on the passing of outstanding statesman Janik Janoyan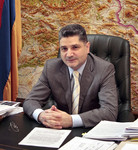 I was deeply saddened to learn of the demise of outstanding statesman Janik Janoyan with whom I maintained close professional and personal ties.
Janik Janoyan was among those singular personalities whose life story was the reflection of our country's decades-long modern history, full of challenges, feats and achievements.
During his years-long unblemished service in key positions within the government of the Armenian SSR, as well as in his capacity of first RoA minister of finance and ADB board chairman, he did his utmost to give birth to the financial and banking systems of our newborn State and to rehabilitate the economy.
One can hardly overestimate Janik Janoyan's contribution to the preparations for introduction of Armenia's national currency as evidenced by his signature on the first sample banknote of the Republic of Armenia.
He will be remembered a statesman of perfect integrity and honesty who was entirely devoted to his mission and should set an example for the upcoming generations.
At this time of deep sorrow, I am extending my sincere sympathy and condolences to the family and close relatives of Janik Janoyan.
Tigran Sargsyan
Prime Minister of the Republic of Armenia

On behalf of the Government of the Republic of Armenia
The Government of the Republic of Armenia informs with much regret that outstanding Armenian statesman, first minister of finance of the third Republic JANIK ARTASHES JANOYAN died at the age of 83 due to protracted and heavy illness and condoles with the family and relatives of the deceased.
Under Prime Minister Tigran Sargsyan's decision, a minister of finance Tigran Davtyan-headed government commission has been established to organize the funeral of Janik Janoyan.