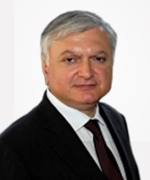 Edward Nalbandian
RA Minister of Foreign Affairs
In office since
15 April 2008
Curriculum Vitae
Date and Place of Birth
July 16, 1956, Armenia
Education
1978, Moscow State Institute of International Relations
1988, Post-graduate course completed at the Oriental Studies Institute of SU Academy of Sciences with a the degree
of Master of Political Sciences received, specialization - international relations
Career Experience
1978-1983, USSR Embassy in Lebanon
1983-1986, USSR Foreign Affairs Ministry
1986-1992, Adviser with SU, then RF embassies in Egypt
1992-1993, Armenia's Charge d'Affaires in Egypt
1994-1998, RA Ambassador to Egypt, as well as Morocco and Oman (residence at Cairo)
March 1999, RA Ambassador to France
January 2000, RA Ambassador to Israel (residence at Paris)
September 2004, RA Ambassador to Andorra (residence at Paris)
December 2006, RA President's Personal Representative in the International Organization of Francophonie
Numerous missions completed in various countries in the capacity of RA President's special envoy, Armenia represented at international conferences.
Mr. Nalbandyan is author of numerous study works on Middle East and international relations.
As of April, 2008, RA Minister for Foreign Affairs
On June 4, 2012, re-appointed to the post of Minister for Foreign Affairs.
A presidential decree was issued on April 20, 2013 to re-appoint him to Minister for Foreign Affairs.
Other Information
Under a presidential decree signed on December 28, 2012, got a 2nd degree medal "For Services to Motherland".
1982, Order of Friendship between Peoples
2001, Legion of Honour of the French Republic
2001, Mekhitar Gosh Medal of the Republic of Armenia
2003, Saint Gregory's Great Cross Order of the Holy See
Party Membership
Non-Partisan
Personal Status
Married, father of a daughter