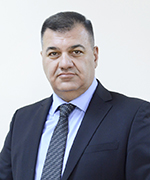 RA Minister of Transport, Communication and Information Technologies
In office since
12 May 2018
Ministry of Transport, Communication and Information Technologies
The Republic of Armenia Ministry of Transport, Communication and Information Technologies is a republican body of executive authority, which elaborates and implements the policies of the Republic of Armenia Government in the transport, communication, and information technologies sectors.
First Deputy Minister:
Hakob Arshakyan
Deputy Ministers:
Amalia Yeghoyan
Armen Pambukhchyan
Bagrat Badalyan

Address:
28 Nalbandyan, Yerevan 0010
Tel.:
59-00-01
URL:
http://www.mtcit.am
E-mail:

Standalone Units and State Agencies
Licensing Agency
Head: Ashot Sahakyan
The Licensing Agency as established by law and in cases envisaged by law provides services in the field of licensing, including in particular technical examination of vehicles, organization of regular transport communications, railway transport activities and other functions.
Republic of Armenia Transport Inspectorate
Head: Andranik Ascatryan
The Transport Department carries out supervisory functions and applies sanctions in the field of transport within the transport sector oversight requirements of the acts of the regional governing bodies to coordinate activities in the field of transport etc.