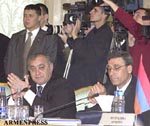 Wednesday, 15 September 2004
Today a session of the Council of Heads of Governments of CIS-member States was held in Astana, capital of Kazakhstan. RA Prime Minister A. Margaryan attended the session, which was chaired by Vasily Tarlev, Prime Minister of the Republic of Moldova. Before opening the session, the heads of governments of CIS-member States honored in silence the memory of the victims of the terrorist act committed in Beslan town of Russian Federation. Danial Akhmetov, Prime Minister of Kazakhstan, the host... more »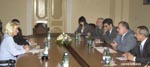 Monday, 13 September 2004
Today RA Prime Minister A. Margaryan has received H.E. Mrs. Terhi Hakala, Ambassador Extraordinary and Plenipotentiary of Finland to Armenia. The Prime Minister offered his congratulations on her appointment and, on behalf of the government of the Republic of Armenia, assured the Ambassador of his government's willingness of support. Stressing that economic partnership between Armenia and Finland is far behind the existing political cooperation, the Prime Minister noted that Armenia was... more »
Monday, 13 September 2004
On September 14, RA Prime Minister A. Margaryan is leaving for Astana, capital of Kazakhstan, to attend the September 15 Ordinary Session of the Council of Heads of Governments of CIS- member States. The delegation led by the Prime Minister will include Vardan Oskanyan, Minister of Foreign Affairs, M. Topuzyan, Minister-Chief of Government Staff, Suren Haroutiunyan, Permanent Authorized Representative of the Republic of Armenia to CIS Statutory and Other Bodies, Artak Vardanyan,... more »
Friday, 10 September 2004
Today RA Prime Minister A. Margaryan attended the funeral service held at St. Gregory the Illuminator's Church in commemoration of the victims of the terrorist act committed at Beslan.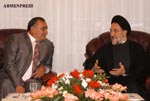 Wednesday, 8 September 2004
Today RA Prime Minister A. Margaryan has met with Seied Mohammad Khatami, President of the Islamic Republic of Iran, who has arrived in Armenia on a two-day official visit. By greeting the high-ranking guest and placing a special focus upon this visit in both economic and political respects, the Armenian Prime Minister noted that the existing multi-faceted cooperation between Armenia and Iran, apart from being advantageous for the two countries, is also beneficial for the region as a... more »
Wednesday, 8 September 2004
Today RA Prime Minister A. Margaryan has received Enrique Gelbard, IMF Middle East and Central Asia Department Mission Chief, as well as James McHugh, IMF Resident Representative to Armenia and Susan George, Economist. Stating that the IMF has been maintaining close ties of fruitful cooperation with the Armenian government over the past ten years, the head of the mission said that the purpose of his visit was to continue the on-going dialog with the executive and to discuss a number of... more »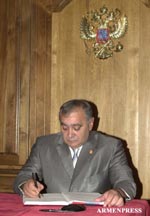 Tuesday, 7 September 2004
Earlier today RA Prime Minister A. Margaryan paid a visit to the Russian Embassy in Armenia and made a record in the book of condolences in connection with the tragic events, which shocked the town of Beslan: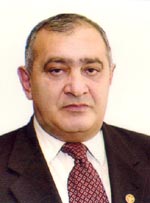 Monday, 6 September 2004
RA Prime Minister A. Margaryan has sent a message of condolence to M. Fradkov, head of the government of the Russian Federation , which reads as follows:
Thursday, 2 September 2004
Prime Minister Andranik Margaryan's Congratulatory Message on the Occasion of the Independence Day of the NKR
RA Prime Minister Andranik Margaryan has sent a congratulatory message to Mr. Arkady Ghukasyan, President of the NKR, and the whole people of Artsakh. The message reads as follows.
Wednesday, 1 September 2004
Prime Minister Andranik Margaryan's message felicitating students and schoolchildren on the occasion of the Day of Knowledge
Dear schoolchildren and students, honorable teachers and parents: It is my pleasure to felicitate you on the occasion of   September 1, the Day of Knowledge, which acquires special significance in the light of the starting academic year. This is a great and memorable day for the first-year students who are stepping on the threshold of the academic life