Friday, 10 November 2017
Government discussed issues related to Sevan National Park activities and compliance with Prime Minister's instructions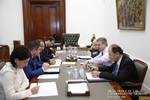 Chaired by Prime Minister Karen Karapetyan, a working consultation on the reform of Sevan National Park was held in the Office of Government.
Nature Protection Minister Artsvik Minasyan and Sevan National Park SNCO Director Vahe Gulanyan reported progress in the ongoing activities and the implementation of Premier's instructions.

It is envisaged to collect 287.6 million drams in 2017, 108 million more than in 2016. AMD138.4 million has already been collected in land lease payments, which exceeds the previous year's index by 40 million drams. The SNCO Director assured that this year's collection target will be met in full.
It was also reported that garbage collection and waste removal work is being carried out by means of regularly held cleanup campaigns. In this connection, the speakers advised that garbage collection contracts have already been signed with 260 out of 290 entities operating in the Park.

The meeting next touched upon the dismantling of illegal buildings, forestation issues, the investment projects under consideration and the development of water transport. The Premier instructed the stakeholders to continue making consistent efforts in this direction and periodically report back the results.